Remodeling Your Washroom? Things To Consider To Avoid Water Damage
While our bathrooms are constantly exposed to water, too much of it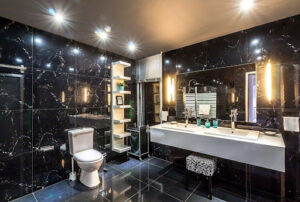 can lead to water damage. If your bathroom has suffered water damage or is exposed to the detriments that come with overexposure to water, you can always consider remodeling your washroom. Remodeling and water-proofing your bathroom will save you high repair and maintenance costs in the future, allowing you to enjoy the comfort and pleasure of your master bathroom for years to come.
What most homeowners fail to realize is that they can reconstruct their bathroom in a way that avoids or at least mitigates water damage. This guide will talk about the bathroom remodeling tips that will save you from bio-hazards that could require professional clean-up services.
Tips to Remodel Your Bathroom to Avoid Water Damage 
There are several benefits of remodeling your bathroom. It will not only help you spruce up the look of your home but also save you from the problem of mold that is part and parcel of water damage. Ensuring your bathroom is dried to a tee can be quite difficult, so why not use materials that will not sustain water damage. Moreover, water damage can lead to health hazards as well, which is why this task becomes even more pertinent. 
Here are a few tips you can use to remodel and upgrade your bathroom to avoid and reduce water damage.
Use Water-Resistant Materials 
Building materials like wood may look and feel great in other parts of the home. They are not conducive for areas that are regularly exposed to water, including kitchens and especially bathrooms. Organic materials like wood are prone to water damage and mold damage, so they should be avoided in bathrooms if you want to mitigate water damage. 
For bathrooms, you should use inorganic materials like tile, stone or ceramic, which will be able to withstand water damage far better than wood. If water lingers on wood, it will start to warp and lose its shape and quickly fall prey to mold, which eats away organic materials. Bathroom floors that are made of stone or tile will not be affected by moisture and are far more resistant to mold. 
Seal Tile Seams 
While tiles in bathrooms are hard-wearing and resistant to moisture, they too will succumb to water damage. The most common cause behind this is worn-out tiles with seams in between. This will cause water to seep inside seams, which will eventually linger and lead to mold growth over time. This can be hard to remove and will also pose health hazards for people using the bathroom.
If you want to make your bathroom water damage resistant, you need to seal shower tile seams. You can use silicone-based bathroom grade caulk that will seal any cracks and holes in the tiles, which may allow water to collect behind the tiles and moisten the backer board. This method should be used to seal any gap between two surfaces, like between walls and floor, and between countertops and walls.
Install an Exhaust Fan 
After you have showered, it can be quite a task to dry the bathroom floor and walls. While tile flooring is resistant to moisture, you still don't want to ensure the bathroom is as resistant to water damage as possible. So when you're remodeling your bathroom, you can install an exhaust fan as a convenient way to dry your bathroom.
The problem is that when water seeps into the corners of the bathroom, it incurs the risk of mold, which thrives in the presence of moisture and humidity. Now you can dry the bathroom with the help of an exhaust fan instead of waiting for the water in the bathroom to air-dry. 
Use Glossy Wall Paint  
Water damage in bathrooms can also manifest in the form of water streaks and stains on the wall, which will tarnish the appearance of your bathroom. Moreover, lingering moisture also incurs the risk of mold, no matter how minor. This is a possibility with a matte paint that has a higher tendency to blemish.   
To mitigate the possibility of water damage in bathrooms, you should consider using high-gloss paint options where water tends to trickle down, saving your bathroom's walls from water stains. Glossy walls also add a nice aesthetic quality to bathrooms. 
Add a Shower Screen
When you're remodeling your bathroom, do away with the outdated shower curtain and add a modern and classy glass shower screen instead. Your bathrooms are exposed to water, and the possibility of water damage most often after a shower. 
A shower screen will help limit the splash and contain the water inside the area of the shower. This way, you can just dry that specific area after a shower and ensure the rest of the bathroom is clean and dry, mitigating the possibility of water damage. 
Water Damage Restoration 
Use the tips above to remodel your bathroom in a way to avoid or at least mitigate the incidence of water damage in bathrooms. However, since bathrooms are always exposed to water, there is always a risk of water damage. If you notice water damage in your newly remodeled bathroom, you can avail the prompt and professional services of 911 Restoration of Denver Metro.