Dealing With a Tornado in Snow – Disaster Management & Mitigation in Denver Metro
Tornadoes in the snow made headlines earlier this year. We can expect a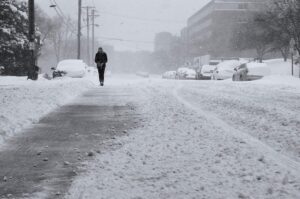 similar scene as the winter season arrives with the expected arrival of thunderstorms, snow, blizzards, and tornados. As homeowners, you need to stay alert and prepare for the unexpected when experiencing natural disasters.
Having access to trustworthy and dependable home restoration experts should be on your checklist of things to do before the storm. Experienced consultants can provide emergency support if you experience water damage, sewage overflow, smoke and fire damage, mold growth, and other property damage after the tornado-led storm.
Here's everything you should know and do:
Tell-Tale Signs of Tornadoes in Snow
The U.S Department of Homeland Security funds Ready Colorado. The disaster management and mitigation program cover the government-funded Denver Urban Areas Security Initiative. The official site shares different guides and crucial information on disaster management and mitigation in Denver Metro and neighborhood areas.
Residents are advised to bring an NOAA Weather Radio home to check for tornado sirens and warnings about potential tornadoes in snow. Due to their rapid movement, even the smallest tornado can wreak havoc by touching down the Denver Metro area for a few minutes. Expected residential weather damage includes uprooted trees, demolished homes, broken plumbing lines, and severe property loss in the outdoor area.
Knowing when the wintry weather turns into a destructive natural disaster can help you take necessary preventative measures.
Here are some warning signs of tornadoes in snow:
The frequency of thunder and lightning will increase during a storm
You may experience torrential hail with (little) or no rain
The tornado can create loud roaring and rumbling sounds
The cloudy sky may appear yellow or green
Your area might receive heavy rain or hail accompanied by a funnel cloud
Besides this, a rotating cloud (or debris cloud) filled with dust and debris might emerge without any evident signs of a funnel.  Even with the high alert situation and best disaster management and mitigation teams onsite, you must have a tentative plan to protect your home. Know how to minimize the loss and whether or not your insurance company can save you from a potential financial crisis by covering for costly repairs.
Disaster Mitigation in Denver Metro: Does Your Insurance Cover Disaster Mitigation in Denver?
The answer depends on individual insurance policymakers. Tornadoes in the snow might be rare, but severe storm damage isn't unusual.   Yet, most carriers might not include them as part of their home coverage clause.  You should read the fine print to ensure that your homeowner's insurance policy covers all possible weather damage issues.
911 Restoration of Denver offers full insurance support to facilitate the legal process as your disaster restoration service provider. We can share before and after photographs, invoices, and testimonies to vouch for your rightful claim for reimbursement. These efforts help you to file a claim. If everything works in your favor, you can expect a sizable amount for property coverage. You can use the money for appropriate repairs and reconstruction purposes.
How to Prepare for Tornadoes in Snow?
Winters in Denver, Colorado, can become extreme when tornadoes in the snow make way for the metropolitan city.  Beware of significant property damage caused by heavy rain, ice, and snowstorms accompanied by a twister.
Our home restoration experts advise you to take a few precautionary steps to shield your home from imminent disaster.
Survey Your Landscape
Dead branches and trees can become a threat when the tornado hits. Trim your tall trees and eradicate dead branches, weather-damaged stumps, and other debris scattered across your yard. Removing them now can minimize the risk of potential property damage caused by uprooted trees, flying branches, etc.
Invest in Seasonal Roof Maintenance
Roofs defend homes against harsh weather conditions.
Tornadoes in snow threaten it with heavy hail, ice, and snow.  Prevent these environmental elements from damaging your roof by addressing old repairs like replacing loose/old shingles, leaks and removing clutter. Clear away icicles and snowy layers forming on the roof as their weight can cause it to collapse.
These repairs can maximize the life expectancy of your old roof. It also manages to evade the passing tornado-inflicted damage.
Protect Outdoor Furniture and Plumbing
Passing tornadoes can sweep away patio umbrellas, small furniture and destroy plumbing lines. Outdoor sheds and gardening equipment kept outside should also find safer space for storage.  You can do this by relocating it to your garage and insulating your pipelines to prevent running water from freezing during bad weather.
What's More?
Here are other things you can do to protect your home and family:
Monitor location-based NOAA weather reports. Listen to local news channels for real-time updates on the progress of the tornado.
Prepare a 72-hour emergency kit. Fill it with essentials to hold onto the possibility of survival if the power outages last for days. Your bag can include non-perishable food items, manually operated torches, clean drinking water, etc.
Reset electrical appliances. Limit fire hazards by ensuring your heaters, heating systems, and other appliances aren't in the way. Remember to unplug your devices and remember to keep them away from open doors and windows.
Make an evacuation plan. Discuss exit strategies with children and other family members for your emergency evacuation plan. Everyone must know how to escape the premises and the safest location to meet.
Apart from this, consider contacting licensed home restoration experts for a consultation to identify potential risks and resolve them before things escalate.
Disaster Restoration Services: What Does Disaster Mitigation in Denver Metro Look Like?
911 Restoration of Denver operates a 24/7 disaster restoration service for Denver Metro and neighboring areas. Our emergency respondents reach the site once it's safe to travel outside after the tornado ends.
Our home restoration experts have years of experience clearing debris and reconstructing homes affected by tornadoes in snow. All thanks to industry-grade IICRC-training and specialized heavy-duty equipment that manage to tackle small and large scale problems.
This includes:
Water damage restoration
Sewage backup
Mold remediation services
Fire and smoke damage
Besides this, we provide commercial property restoration services that cover all repairs and replacements required for businesses in the aftermath of a tornado.
Final Words
Tornadoes in snow have become a likely possibility this winter. Homeowners must prepare ahead of time to limit the threat. Start by looking into government and private programs dealing with disaster management and mitigation in Denver Metro. Additionally, discuss coverage options with your insurance adjuster.
Lastly, know who to call when disaster strikes. Hiring home restoration experts that offer specialized disaster mitigation services can prove beneficial in these cases. That's because we know how to deal with such situations and eliminate hazards.
With our help, your home will return to its pre-tornado condition sooner.
Got an emergency? Call (303) 622-3871 to contact 911 Restoration of Denver for immediate assistance.