Water Damage Sedalia
Water damage is one of the worst disasters to happen in a property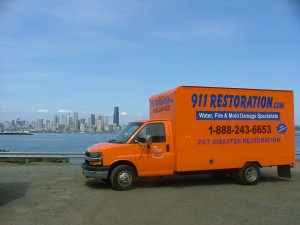 because it melts drywall, rots support beams, and spawns mold growth, so you will need the help of our water damage Denver Metro company for same day service and our water damage Sedalia professionals will respond within 45 minutes of your emergency call. We know how devastating floods from a pipe burst, toilet overflow or storms, so we act fast and professionally with the latest drying technology. 911 Restoration Denver Metro is available 24/7 so call us when you need water extractions and we will be there as soon as possible to start pumping water out. We are licensed, insured, and bonded in all of the following:
Water removal
Sanitation
Mold Remediation
Disaster Restoration
Sewage Backup Cleanup
Reconstruction
Our water damage Sedalia professionals are IICRC certified with over 35 years of experience providing the best water damage restoration services to houses in the community. We will make sure your home is safe again with our free inspection to check form mold that may have blossomed in the after math of leaks. Call us for all your disaster restoration services and our water damage Sedalia experts will use the latest drying technology to clear your property damage excess moisture in a timely manner.
Who do I Call for Water Damage Sedalia?
Call our water damage Sedalia technicians when your home floods and we will be there to help you with all aspects of the restoration process. Our drying and clean up jobs will have your home back to normal in now time. 911 Restoration Denver Metro is working with all insurance companies to make sure you get the most from your coverage. When a fire sprinkler malfunction floods your office or ruptured hoses start pumping gray water into your crawls space, follow these steps:
Call 911 Restoration
Turn off your water line
Remove furniture from the encroaching water
Stay away from the incident
Evacuate the tainted rooms
Contact your insurance company
It is important to make 911 Restoration Denver Metro your first call. Our water damage Sedalia staff will walk you through the rest of the steps. When your plumbing start pumping water into carpets, you need to shut off the water line as soon as possible to stop the flow of liquid. Turn off your electrify to prevent electrocution. If it is safe, and you will not contact the poisonous returning water, remove furniture so that it does not absorb black water like the rest of your home. We get to work salvaging all materials as soon as we arrive and do it all for an affordable price. We will even file you water damage insurance claim to get you the most from the homeowner's coverage, so call our water damage Sedalia personnel today!
Does Homeowner's Insurance Cover Water Damage?
Homeowner's insurance covers water damage Sedalia services when the issues started inside your home and preventative measures are in place to stop such ordeals before they start. We suggest you insulate your water line, replace broken plumbing, and clean your rain gutters to show negligence was not at fault. If your insulate your plumbing, a pipe burst is far less likely. By repairing your plumbing within 24 hours, mold is likely to form. In addition, many homeowner's insurance policies become voided after a full day of leaks without any attempt to remedy them, so before to handle your water line as soon as it fails. Our water damage Sedalia operatives can help you with all aspects of water recovery because we are the best company in the business, so call us today!
What is the Best Water Damage Company in Sedalia?
The best water damage Sedalia company is 911 Restoration because we sympathize with the plight of homeowner's whose property has succumbed to water. We will make sure you get fast, expert water clean up at an affordable price. Between our focus on speed and expertise, you will see why we are the best water damage Sedalia company. Sedalia, Colorado is corralled by many creeks, including Jarre Creek, East Plum Creek, West Plum Creek, and just plain Plum Creek. While creeks are some of the smallest bodies of water, they can still add up to enough moisture to produce heavy storms and can be overwhelmed by heavy storms, resulting in disastrous property consequences. If you ever need a fresh start after storms or plumbing wreck havocs on your building, call our water damage Sedalia representatives for immediate help that makes your home better than ever.