How Deep Can Smoke Go After Smoke Damage?
Fire flames can cause irreversible damage to property. They shatter,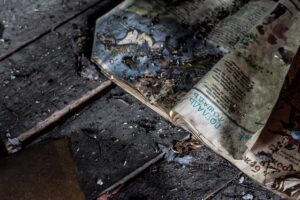 melt, and crack things. However, we believe once the fire has been put out, there is nothing more to be afraid of; that is where we are at fault. Smoke damage left behind after the fire has been put out can damage homes and health, even more so than the fire itself. Smoke damage is visible; however, there are times where it is not noticeable. Smoke and soot can be extremely invasive. Even when the fire was contained, it will find its way all around the home using HVAC vents in most cases. You'll find smoke damage at home behind walls, furnishings, light fittings, and electrical sockets.
Buildings and houses have been ruined by smoke in cases of wildfires and forest fires, even when the flames themselves never touched the property. This shows how damaging and invasive smoke can be. That is why cleaning up soot and smoke quickly after a fire is crucial. It will eat away your house items like acid. So, reach out to a professional smoke damage restoration specialist to assess the damage. If you live in Denver Metro, 911 Restoration will help you clean up smoke damage and inspect your place to determine what items should be cleaned, discarded, or replaced.
How Does Smoke Affect Your Home?
Smoke affects different materials in various ways. The worst way smoke can cause damage is by sneaking into HVAC systems and small cracks in cabinets and walls because the particles are so fine and small. They often go undetected because seeing them with the naked eye is difficult most of the time. The only way to clean up smoke damage is to remove affected items and clean soot off walls and furniture and remove that lingering smell of smoke damage.
How to Clean Smoke Damage?
The first step to take is to ventilate your home to prevent soot and smoke particles from settling into cracks and onto furniture. Remove debris and clean surfaces within your reach. If you're unaware of cleaning methods, you can always call professionals to get the job done. The quicker the action you take, the more easily you can reverse smoke damage and prevent cross-contamination.
Areas Where Smoke and Soot Can Sneak Into
Upholstery and Curtains
Even if the fire was only contained in the kitchen, your bedroom, living room, and other curtains and upholstery around the house could get damaged by smoke. Smoke and soot can travel through vents around the house. Not ventilating after the fire quickly can cause cross-contamination and for smoke particles to cling onto materials around. They can quickly become embedded within fabric materials of curtains, carpeting, and upholstery. It won't be hard to miss the smoky smell coming from these fabrics. Not taking action right away would cause this smoky smell to linger on, and undoubtedly with time, it would become much harder to remove odor particles from the fabric.
Bedding and Clothing
It is similar to when it comes to bedding and clothing. Who would want to wear clothes or sleep on beds that smell of smoke? Through vents, smoke particles can travel to bedrooms damaging bedding. If there are cracks and spaces in cabinets, smoke can sneak into those easily and damage your expensive much-loved clothing as well. They require special cleaning techniques and agents to get rid of smoke particles.
Wood Furniture
Cleaning up soot off of wood furniture is tricky. After being exposed to smoke damage for a long duration, wooden furniture can become discolored. Invest in the right products to restore your furniture. You might end up stripping the varnish and ruin your furniture if you use the wrong cleaning agent. A professional and reputable restoration company for smoke damage will know about the right products to use for your expensive furniture.
Metal Objects
Aluminum, brass, steel, and iron can soon start to tarnish due to smoke damage. If you want to save your household items from staining, take action right away!
Hardwood Floors
Hardwood floors are porous, meaning smoke and soot particles after fire damage can easily get nestled in. If the damage is visible and difficult to restore, it would be necessary to refinish the floor or even replace it if it is entirely damaged.
Walls
Smoke-damaged walls turn yellow after a few days. It's not easy to remove soot clinging onto walls; it takes a bit of elbow grease. Before you begin soot clean-up, remove items such as furniture from the area to prevent additional damages.
How Fast Do You Need To Act?
Time is important when it comes to cleaning up smoke damage. The sooner you act, the better. If you feel overwhelmed by the amount of work that needs to be done, consider calling specialists. Cleaning soot stains is not always a one-person job. 911 Restoration has experienced smoke damage specialists in cleaning and repairing smoke-damaged walls, flooring, upholstery, and furniture. Call (303) 622-3871 to speak with the experts about the soot removal process and inspection. Our priority is customer satisfaction, and our services are available 24/7 for your ease.