Frozen Pipes – How Burst Pipes Create Water Damage
Frozen pipes are among the leading causes of water damage in Denver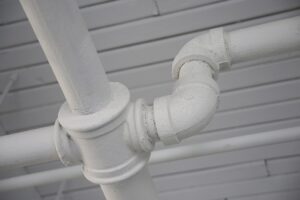 Metro homes. It is a foregone conclusion that most homeowners will experience a burst pipe or water leak at some point, especially if they haven't had seasonal plumbing maintenance.
Every home contains plumbing that is prone to bursting or breaking, including toilet and sink pipes. It doesn't help that some of these pipes are located in the basement, interior walls, and ceilings where they are out of sight (and out of mind).
Regardless of where your pipes are located, it is important to fix leakages to prevent water damage and mold growth.
Here's How a Frozen Pipe Can Cause Water Damage
Regardless of how and where the pipes burst, it will cause a water leak into your home. The extent of water damage is proportional to the amount of water spillage.  In severe cases, a lot of water can spill out into your house or office.
Here are three example of how water leakages from burst pipes:
A single toilet supply line will flow at about 2 gallons per minute, resulting in about 3000 gallons of water spilling out in a 24 hour period.
A supply line to the back of your fridge can flow at a rate of 1 gallon per minute. That is about 1400 gallons of water spilled into your home in under 24 hours.
A leak in the washing machine supply line means that water could escape at a rate of 10 gallons per minute, causing around 10,000 gallons of water to fill your home in under 24 hours.
When assessing water damage in Denver Metro due to burst pipes, it is essential to determine when and where the leak occurred. In the case of smaller leaks, they may go undetected for weeks while wreaking water damage and causing mold growth.
What Happens When a Pipe Bursts?
The pipe doesn't have to burst to cause water damage. Tiny leaks in the pipe can simply drip the water so that it can cause damage without you even knowing it. If a pipe bursts, make sure to disconnect the supply of water from the main valve, which is the water meter or where the main supply line enters your house. Valves are usually installed in the basement.
Mold Development
The growth of mold and mildew is a very real risk after dealing with water damage of any kind. Moisture creates the perfect circumstances for mold growth. Mold spores are known to multiply within a matter of 24 to 48 hours after water damage occurs.
This is why it is imperative that during the water damage restoration process to remove all traces of moisture and humidity from the space. We recommend scheduling a mold inspection service to detect these issues. Mold is known for causing serious risk injuries and should be eliminated sooner rather than later.
Signs of Frozen or Burst Pipes
Although burst pipes are easy to spot because the water is literally gushing out in front of your very eyes, frozen or leaking pipes are not so easy to spot because they are usually out of view.
Here are 3 obvious signs that can help you determine if you have frozen or leaking pipes.
i) Wall Marks and Stains
Stains on the wall near the pipes are one of the biggest giveaways of a water leakage nearby. If a leak is hidden from your view, it can cause long term damage if allowed to persist. Call a professional if you suspect that a leak is contributing to wall stains.
ii) Discolored Water
Is brown water flowing out of your pipes? This is an indication of a possible disturbance in the pipes that allow deposits to accumulate. The most common reason for brown water is rusty pipes. Make sure to replace rusty pipes before they deteriorate any further and cause leaks.
iii) Low Water Pressure
Noticed a sudden drop in water pressure? This may indicate a buildup of minerals from hard water and pipe leaks. If there is a noticeable drop in water pressure, call a professional to inspect your pipe.
Preventing a Pipe Leak Should be Priority #1
Here are two three you can follow to prevent burst pipes and minimize the risk of water damage that may result from leaks.
i) Replace Old Copper Pipes
Older homes have copper pipes that are prone to corrosion and in need of replacement. If you are worried about older or corrosive pipes, call an expert to carry out an inspection. Plumbers can assess the condition of your pipes to let you know if they should be replaced.
ii) Get a Water Detector or Flood Sensor
One effective option is to install a water alarm that can detect moisture. A flood sensor in the alarm will alert you when it detects an issue. Flood sensors should be installed behind toilets, behind washing machines, in the basement, and under sinks.
iii) Winterize Your Home
If you live in colder regions of the world, your first step should be to winterize your home and your pipes to prevent them from freezing. Water expands when it reaches a freezing temperature. When this happens, the ice inside the pipe can create a blockage. Before you know it, there is nowhere for the water to go and the pressure continues to accumulate until the pipe bursts open.
What to do in the Event of a Burst Pipe?
Your primary course of action should be to call a professional to diagnose the problem. The longer you allow the situation to persist, the worse it can get.
If you have undergone extensive water damage, it is important to start the drying process within the first 48 hours to minimize moisture damage, so make sure to call a professional as early as you can. This will ensure that you can quickly assess the damage and begin the restoration process.
Water restoration services in Denver Metro should be availed at the first signs of water damage.